News
Thursday, January 30, 2020 10:07 AM
VIDEO: U.S. Senate Candidate Mark Curran Caught Lying in Jailhouse Interview
Illinois, January 30, 2019
- A criminal complaint for filing a false police report and obstruction of justice has been filed against former Lake County Sheriff Mark Curran, now a Illinois candidate for U.S. Senate, based on statements made during Curran's
videotaped jailhouse interview
with Grayslake Police. The complaint was filed by Curran's former U.S. Senate opponent, Republican William J. Kelly.
Curran also filed counter charges against Kelly for criminal trespass, disorderly conduct, assault, and filing a false report. Finding no evidence to support Curran's spurious claims, the special prosecutor has declined to press charges against Kelly.
During his jailhouse interview, Curran was caught lying to investigators. He waived his Miranda rights
but refused to sign a written statement, worrying that it would be subject to FOIA.
In his police case narrative, Detective Warner determined "Upon reviewing the video (of the battery), I did not observe Dawn (Livengood) or anyone else ask William to leave the office prior to Mark grabbing William by the upper arms/shoulder area and pushing him toward the door," contradicting Curran and Livengood's claims. Another witness, Casey Cheblek, also confirmed Kelly's account.
Warner noted that based on the video file, "I observed Mark to turn his back on William no less than eight times which is a direct contradiction to Mark's statement that he was afraid to turn his back on William for fear of getting 'cold-cocked," indicating that
Curran had no legal justification for committing a battery against Kelly.
Kelly also filed false police report and obstruction of justice charges against Ms. Livengood, the office manager for the Lake County Republicans Central Committee (LCRC).
Back in November, Curran committed a
criminal battery against Kelly
at the Lake County Republican office in Grayslake and the incident was
captured on video.
Both Curran and Kelly had been both invited to speak before the LCRC. Despite the battery charge, Curran was endorsed by the LCRC anyway.
Detective Warner's full case narrative from the Village of Grayslake is available upon request.
---
Thursday, November 7, 2019 11:47 AM
Numerous lawsuits filed against Mark Curran in Lake County
Mark Curran's term as Lake County Sheriff came at a high cost for Lake County taxpayers as a search of Lake County court records reveals. Lake County States Attorney Mike Nerheim is still defending Curran in a number of pending civil matters, including many intentional tort cases: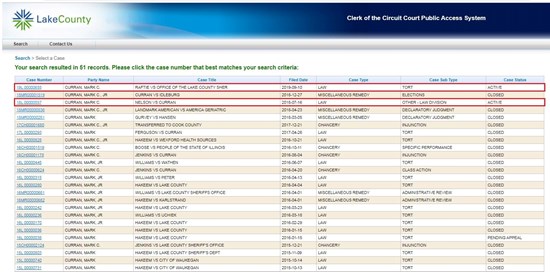 ---
Thursday, November 7, 2019 11:33 AM
Special Prosecutor to be Named in Mark Curran Battery Case
The office of William J. Kelly has received the following update on the criminal complaint against Mark Curran for assault and battery via email from Lake County States Attorney Mike Nerheim:
Dear Mr. Kelly,
As I indicated in our conversation, I have a conflict with handling a charging decision and any subsequent prosecution of Mr. Curran because my office currently represents him in pending civil matters. I also advised that my office had confirmed that the Grayslake Police Department was in the process of completing their investigation. The process in any criminal case is for the police to investigate, and then upon the full completion of their investigation, to turn the matter over to the proper prosecuting authority for them to make a charging decision. Normally, that prosecuting authority would be my office, but due to the conflict, we will be bringing in a special prosecutor to handle this matter once the investigation is complete. I do not expect the investigation to take very long.
In order to expedite the appointment process, my office has already contacted the Illinois Appellate Prosecutor's Office. This is the organization that handles conflict prosecutions for my office. They have agreed to accept the case and are awaiting their appointment. There is a formal process that is required in order for a special prosecutor to be appointed. The process requires a judge to sign an order. I cannot present that order for signature, until I receive the complete investigation from the Grayslake Police Department.
As soon as I receive that investigation, I will immediately present the order for appointment.
Sincerely,
Mike Nerheim
Lake County States Attorney
On November 2, 2019, Kelly filed a criminal complaint with the Grayslake Police after Curran committed an assault and hands-on battery against Kelly at the Lake County Republican endorsement session where Kelly was invited to speak. Kelly was asking Curran questions about his positions on illegal immigration and an enraged Curran grabbed and shoved Kelly on video. An unedited video shared with the media reveals that Curran had no legal excuse for his physical assault against Kelly.
Mr. Nerheim is currently defending Curran from pending tort and law division lawsuits. A search of the Lake County database indicates that Curran has been a defendant in 20 or more tort-related lawsuits and other legal problems.
---
Monday, November 4, 2019 9:30 AM
Unhinged: Battery Complaint Filed Against Mark Curran
Illinois, November 4, 2019
- A criminal complaint for battery has been filed against former Lake County Sheriff Mark Curran, now a Republican candidate for U.S. Senate. The complaint was filed by Curran's U.S. Senate opponent, Republican William J. Kelly.
The battery incident took place within just minutes of Curran arriving at the Lake County Republican office in Grayslake on Saturday, November 2, 2019 and was
captured on video.
In the video
,
Curran calls Kelly a "liar" and Kelly responds by asking him, "Oh really, how am I a liar? Did you support driver's licenses for illegal aliens? Yes or no?" An angry, unhinged Curran then grabs Kelly roughly by both shoulders and shoves him across the room to the door. "Let's go," Curran said. "Is that what you want to do? Do you want to go right now? Yeah, you're a Democrat," Kelly said. Curran switched to the Republican Party in 2008.
"As a former sheriff, Mark Curran should know by now what a battery is," Kelly said. "If Mark Curran can't handle being questioned about his positions on key issues without exploding in anger and becoming unhinged, how can he run for the U.S. Senate as a Republican? I think Mark needs to address his emotional instability issues before he really hurts himself or someone else."
Curran and Kelly were both invited to speak before the Lake County Republican Central Committee (LCRC), which had its endorsement session on Saturday. The LCRC was informed about the battery and the filing of the criminal complaint against Curran but endorsed him in Saturday's session anyway.
---
Monday, November 4, 2019 8:56 AM
A Timeline of Mark Curran's Support for Illegal Immigration - With Links
Curran also backed SB 31
, "The Trust Act," which was signed into law by Governor Bruce Rauner in 2017. The bill, which was supported by the Illinois Coalition for Immigrant and Refugee Rights - a pro-amnesty group, made Illinois a sanctuary state.