News
Sunday, July 26, 2020 2:02 PM
William J. Kelly Speaks at the Million Unmasked March at the Springfield Capitol
A crowd of more than 200 peaceful protesters gathered at the Springfield Capitol to demonstrate against Gov. Pritzker's mandatory school mask mandate for school children. Michael Rebresh was the organizer of the Million Unmasked March and Rally. Among the speakers at the rally was William J. Kelly, host of the "Citizen Kelly Show" on AM 1590. Kelly was at the rally to speak about the 90-page lawsuit his attorney against Gov. Pritzker and Mayor Lightfoot. Kelly, along with other business owners and Illinois residents, is a plaintiff in the lawsuit. If successful in their suit, business owners and individuals will be able to file a claim against Illinois and Chicago for actual damages plus attorney's fees.
---
Friday, July 24, 2020 7:38 PM
Status of the Lawsuit Against Gov. Pritzker and Mayor Lightfoot
Springfield, IL (July 24, 2020) - Video of Republican activist William J. Kelly's Springfield press conference to give a status update on the lawsuit filed against Gov. Pritzker and the first lawsuit against Chicago Mayor Lori Lightfoot is available here. Kelly is a plaintiff in the lawsuit.
The plaintiffs' attorney Laura Grochocki says that Lightfoot and Pritzker's abuse of power is shocking. "Mayor Lightfoot and Gov. Pritzker have falsely claimed they have this unlimited emergency power. They do not. What's worse is they have misused the police to enforce their unlawful acts," Grochocki said.
If Kelly's lawsuit is successful, injured business owners and individuals who have lost their jobs or income due to Mayor Lightfoot and Gov. Pritzker's illegal actions, will be able to sue for damages for violations of their civil rights. Estimated damages would be in the millions of dollars.
The extensive four-count lawsuit, filed by Kelly and other injured parties and which is available for download here, is a complaint for declaratory, injunctive and other relief.
---
Monday, June 29, 2020 8:41 PM
Kelly Lawsuit: Lightfoot never issued executive orders to shut down Chicago
A new lawsuit has just been filed in the Circuit Court of Cook County, Chancery Division against Mayor Lori Lightfoot and Gov. J.B. Pritzker. One of the plaintiffs, William Kelly, is a Chicago business owner and the host of the Citizen Kelly Show on AM 1590 WCGO and 95.9 FM. He is the organizer of an online petition effort and has collected 138,000 signatures of Illinois residents, business owners and religious leader who allege they have been harmed by COVID-19 restrictions on the life and liberties.
Kelly says that, so far, other suits that have been filed have not been effective, "We are doing this for the people of Illinois. Every other lawsuit has, so far, missed the mark. Lives are being destroyed. People are going bankrupt. If we succeed, Mayor Lightfoot and Gov. Pritzker will pay a price, in the form of legal damages, for the terrible harm they've caused to people's lives and liberties."
The complaint outlines four counts against Mayor Lightfoot and Gov. Pritzker, including: 1. That Lightfoot's acts violated the plaintiff's rights under the second, third, fourth and fifth sections of the Illinois Constitution; 2. That Lightfoot violated the plaintiffs right to equal protection when she reopened Grant Park to Black Lives Matter protesters; 3.That Lightfoot's reopening plan restrictions exceed her authority and are void ab initio; and 4. That Pritzker's April and May disaster declarations and Executive Order 2020-38 exceed his authority and are void ab initio.
The complaint states: There is no COVID-19 exception to the Constitutional and legal rights of the citizens of the State of Illinois nor the residents of the City of Chicago. Further, there is no constitutional provision or legal precept that subordinates democracy to a public emergency or pandemic. Even Lincoln held elections at the end of his first term and submitted his admiration to the will of congress during the Civil War, even if it meant losing to the confederacy because of the election of General McClellan after 4 years of war. However, despite the aforesaid well-established law of the State of Illinois, both Pritzker and Lightfoot have favored certain groups and beliefs over others, issuing exemptions from their illegal emergency decrees, which were no longer in force after April 9, 2020.
The complaint further contends that Lightfoot's executive orders did not order a shut-down of Chicago or Chicago's Lakefront and that her emergency authority relies on Gov. Pritzker's executive orders, which are currently the subject of challenges in other lawsuits. The lawsuit also contends that Lightfoot had no authority to shut-down Chicago's Lakefront, beaches, adjacent parks and Chicago's Riverwalk and, certainly, no authority to close and reopen them selectively in violation of the plaintiff's right to equal protection.
---
Tuesday, March 31, 2020 10:42 AM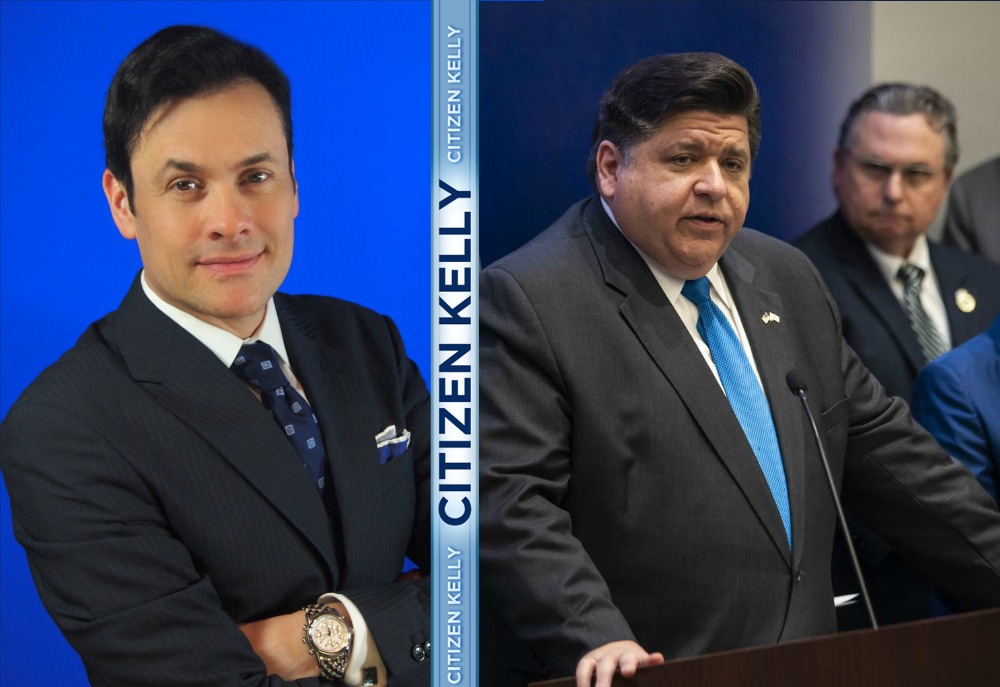 Springfield, Illinois, March 31, 2020 – An online petition at change.org is calling for billionaire Governor J.B. Pritzker (D-IL) to self-quarantine himself and resign from his duties after his Administration's slow, failed response to the coronavirus pandemic which has now killed 73 Illinois residents with the total number of cases at 5,057 and growing.
William J. Kelly, a former statewide candidate for Illinois comptroller and host of the "Citizen Kelly Show" on AM 1590 WCGO and 95.9 FM, has launched the petition. "Gov. Pritzker failed in his first test as governor and people are dead because of it. How many more Illinois citizens will die because of J.B. Pritzker?"
The "Quarantine Pritzker" petition reads as follows:
On March 13, 2020, President Trump declared a national emergency over the coronavirus. Illinois Gov. J.B. Pritzker failed to issue a stay-home order for Illinois residents until March 20th. The Governor ordered the shutdown of restaurants and bars on March 15th yet he opened the polls for the Illinois primary election on March 17th in violation of social distancing rules. He closed retail stores and services during the stay-at-home order imposed on March 20th yet deemed wealthy Cannabis operators and their dispensaries "essential businesses." Under Gov. Pritzker's reign, recreational weed went from illegal to "essential" in three months while Illinois restaurant and retail store owners now face bankruptcy.
Gov. Pritzker has failed to eliminate the Illinois sales tax and plastic bag tax, even though plastic bags are safer than reusable bags in this public health emergency, through 2020 to save Illinois businesses and residents. Our tone-deaf Governor scolds Illinois residents for taking walks yet has released hundreds of prisoners without testing them for deadly COVID-19. Gov. Pritzker has failed our Illinois citizens over and over again. We, the people of Illinois, demand that billionaire J.B. Pritzker self-quarantine and resign his duties as Governor effective immediately.
Sign and share the petition here.
###
---
Tuesday, March 17, 2020 6:14 AM
William J. Kelly for 42nd Ward Republican Committeeman - Robocall