News
Friday, October 5, 2018 3:53 PM
Kelly: Van Dyke verdict is tragic for Chicago, the police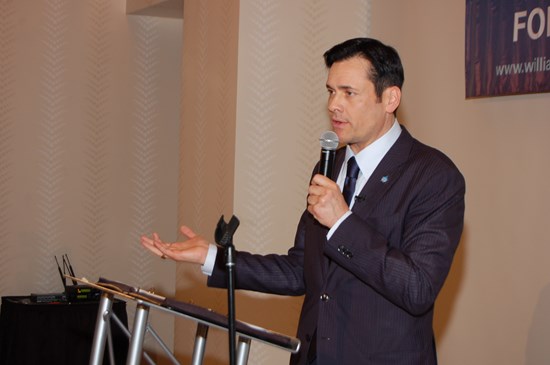 The campaign of William J. Kelly has issued the following statement on the verdict in the Jason Van Dyke trial:
It's a tragic day for Chicagoans and for the Chicago Police officers that risk their lives every day trying to protect us. Under Mayor Rahm Emanuel, Chicago has become America's murder capital and now it's only going to get worse. Why would any officer draw their gun to protect the public or themselves from a criminal – drug-crazed or otherwise? You either end up dead like Cmdr. Paul Bauer or facing life in prison on a second-degree murder charge like Officer Van Dyke. The city doesn't have the backs of the police and this case proves that. Unfortunately, there was no way Officer Van Dyke was going to receive a fair trial in Cook County.
---
Tuesday, October 2, 2018 3:40 PM
PBS: Kelly calls on Rahm to resign over CPS sex scandal

Chicago, Illinois - During a recent appearance on the PBS show, "Chicago Tonight," William J. Kelly, the only Republican candidate for Chicago mayor, blasted the Chicago media and national Democrats for giving Rahm a pass on the Chicago Public Schools sex abuse and rape scandal - a sharp contrast to their treatment of Judge Brett Kavanaugh.
"My job isn't done yet. It isn't enough that Rahm quit the Mayor's race, he must resign effective immediately," Kelly said. "Why hasn't Rahm fired his appointees to the Chicago Board of Education? An internal investigation is not enough - not after 500 cases of rape and sexual abuse of minors over the last eight years."
Kelly is calling for a federal probe into the Chicago Public Schools cover-up and criticized the Chicago media for making the scandal a one-day story.
PBS host Phil Ponce protested that Chicago media have covered the scandal. "This scandal should be front page news. It should be the story you cover every single day," Kelly replied.
In the op-ed, Kelly also drew comparisons between Chicago Public Schools and the Catholic Church.
Kelly wrote:
But doesn't Illinois Attorney General Lisa Madigan have a "moral obligation" to investigate the 500 cases of rape and sexual abuse at Chicago Public Schools too? As the son of Chicago Public School teachers and a graduate of Quigley Preparatory Catholic Seminary, I'm outraged.
In this era of #MeToo, Rahm Emanuel should be driven from Chicago with pitchforks. Why isn't Emanuel being held accountable for the 500 cases of rape and sexual abuse at CPS? How many cases of rape and sexual abuse at Chicago Public Schools have there been since the 1940s?
The national media should be asking these questions but they aren't because Chicago is a Democratic town and Rahm Emanuel is their liberal sacred cow.
---
Friday, September 21, 2018 1:30 PM
My column at Washington Times: Why Rahm must resign now
From my column at the Washington TImes...
The Chicago media is mourning Mayor Rahm Emanuel. The parade of misty-eyed media tributes began last week after Mr. Emanuel announced he was quitting the Chicago mayor's race. "What will Chicago do without Rahm and his vastly superior intellect?" asked the media elite. "What will be his legacy?"
Yes, how can Chicago possibly survive post-Rahm?
The reality on the ground in Chicago is much different than this fake media narrative. What about the unchecked homicide rate, Chicago's role as a major illegal drug distribution hub and the billions in pension debt the city owes?
If legitimate media actually existed, news outlets would be calling for Rahm Emanuel's head. Editorial boards would be demanding that he resign. But they aren't. They are still protecting him as they have done for the last eight years. They are whitewashing his abysmal record. They're burying the facts.
So why did Rahm Emanuel really quit the Chicago mayor's race?
Is it the city's homicide rate or Chicago's status as America's murder capital? No, Mr. Emanuel doesn't care about the shootings on the South and West sides. The numbers may even be worse than reported. In 2014, Mayor Emanuel was accused by Chicago's inspector general of reclassifying homicides into noncriminal deaths.
Is it Chicago's 17 percent murder clearance rate? No, Mr. Emanuel doesn't care that police only solve 1 in 20 murder cases. In fact, Rahm Emanuel has closed down Detective Areas in high-crime areas, resulting in a loss of informants. The Chicago Police say the shutdown contributed to Chicago's poor clearance rate.
Rahm Emanuel quit for two reasons. The first reason why Mr. Emanuel quit is due to the success of the "Take Charge Chicago" referendum. The referendum puts a two-term limit on Chicago mayors and, if passed this November, would have prevented Rahm Emanuel from seeking a third term. Mr. Emanuel filed a legal challenge to the group's 86,000 signatures at the Chicago Board of Elections — and lost a week before he quit the race. This is not a coincidence.
But there is a second and more important reason why Rahm Emanuel quit the Chicago mayor's race; the Chicago Public Schools sex abuse and rape scandal. In June, a Chicago Tribune investigation uncovered 500 cases of rape and abuse at Chicago Public Schools. In one case, a 16-year-old girl was raped 40 times by her coach. These cases of abuse and rape occurred over a 10-year period. Rahm Emanuel has been mayor for eight of those years.
Read the full column at the Washington Times.
---
Thursday, September 20, 2018 12:15 PM
Kelly, Sessions Blast Rahm's 'ACLU approach' to Chicago crime
On Monday's
interview with One America News
, William J. Kelly, the only Republican candidate in the Chicago mayor's race, lashed out at Rahm Emanuel's "ACLU" approach to Chicago crime:
"We have hundreds and hundreds and hundreds of shootings and murders in the City of Chicago that go unsolved. It would be bad enough if these shootings and murders were taking place, but ultimately there were arrests, there were convictions, there was justice. You have to understand, only 1 in 20 murders in Chicago are solved. This is completely unacceptable and it's due entirely to Rahm's 'ACLU approach' to crime." Kelly said.


"Police officers are afraid to get out of their cars and I don't blame them by the way. We don't have a police problem in Chicago, we have a Rahm problem. And we just, through a tremendous amount of effort, solved our Rahm problem and now we don't want to replace Rahm with another Democrat who's going to handcuff the police," Kelly added.


Kelly's sentiments were echoed by U.S. Attorney General Jeff Sessions during a visit to Waukegan, Illinois on Wednesday. Sessions blamed a number of activist groups for a rise in violent crime in Chicago, saying that "if you want more shootings, more death, then listen to the ACLU, Antifa, Black Lives Matter, and groups who do not know the reality of policing."


---
Tuesday, September 4, 2018 7:38 PM
Kelly: We defeated Rahm but now the real work begins (video)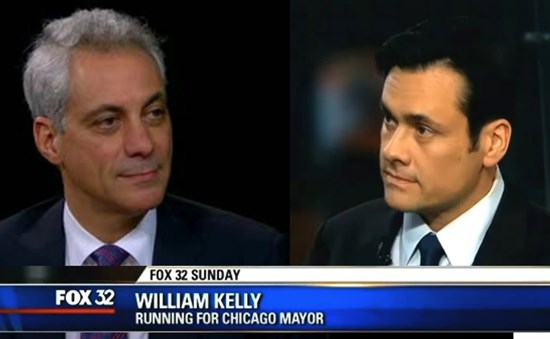 Chicago, Illinois -
Republican William J. Kelly, host of the "Citizen Kelly Show" on AM 1590 WCGO and
Chicago mayoral candidate
, has issued the following statement, claiming victory for Mayor Rahm Emanuel's surprise decision not to seek re-election to a third term in 2019:
"Mayor Emanuel's decision not to seek a third term is a victory for the real people of Chicago. I have spent the last eight years opposing Rahm and we may have won the war but now we need to win the peace," Kelly said. "We stopped Rahm
but now the real work of rebuilding Chicago begins."
Kelly says the first thing he'd do as mayor is invite President Trump to Chicago and put an end to Chicago's sanctuary city status. "We must end the bloodshed once and for all and that means reinvesting in our city neighborhoods and citizens," Kelly says.
In June, Kelly joined forces with former Gov. Pat Quinn on the "Term Limit Rahm" referendum and filed 86,000 petition signatures to put the question on the November 2018 ballot. Emanuel mounted a legal challenge to the signatures but was defeated last week.
"We defeated Rahm last week at the Chicago Board of Elections and now he's quit the Mayor's race. Rahm saw the writing on the wall," Kelly said.
Kelly is a
native of Chicago's South Side. He
i
s an Emmy award-winning TV producer and host of the "Citizen Kelly Show" on AM 1590 WCGO which airs daily from 10-12AM. He is also a contributor to Daily Caller, Newsmax, and a former blogger with the Washington Times.