News
Monday, November 26, 2018 10:49 AM
With Rahm gone, William J. Kelly to retire from politics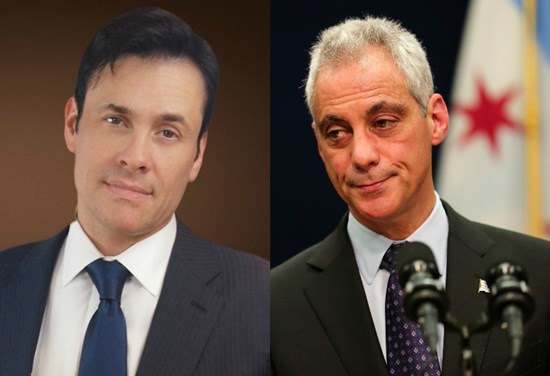 CHICAGO IL, November 26, 2018...Republican candidate for Chicago mayor William J. Kelly, has released the following statement:
"For the last eight years, I have dedicated myself to exposing bipartisan corruption and scandal in our city and our state. With Rahm gone, we can finally declare victory," says Kelly. "Now
it's time for
me to step away from politics and return to the plough.
But, rest assured, I will always be there for the people of Illinois and the City of Chicago if and when I am ever needed again."
"Six months after the Tribune's investigation, Mayor Emanuel has refused to take action on the 523 cases of rape and sexual abuse at Chicago Public Schools. None of Rahm's appointees have been fired or arrested and t
he
City Council has refused to hold hearings," says Kelly. "This is a national disgrace. Emanuel should be chased out of the city with pitchforks, not lauded."
In an op-ed last month for the Washington Examiner, Kelly called on the Trump Department of Justice to initiate a probe into the Chicago Public School abuse scandal under Emanuel on the heels of its investigation into clergy sex abuse in Pennsylvania.
Kelly says that he will continue to lobby for Emanuel's resignation.
In 2014, Kelly busted the campaign finance caps with a $100,000 contribution to his campaign in the Chicago mayor's race, forcing Emanuel into a historic run-off election.
In 2018, Kelly
teamed up with former Gov. Pat Quinn on
the Take Charge Chicago referendum to term limit Chicago mayors and prevent Mayor Emanuel from running for a third term. The referendum is currently on appeal in federal district court.
###
---
Saturday, November 24, 2018 12:01 PM
Kelly slams Mendoza's campaign for Chicago Mayor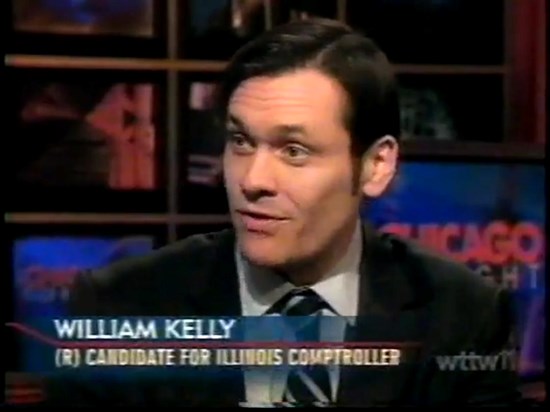 The campaign of William J. Kelly has issued the following statement:
In 2010, I ran in the Republican Party primary for Illinois Comptroller because I believed that, as Comptroller, I could open the books and expose the insider deals. Had I been elected, Illinois would not be in the mess it is in today.
That is why I am outraged by Susanna Mendoza's decision to abandon her responsibilities as Comptroller to run for Chicago's Mayor. This is the most blatantly corrupt move I've ever seen and yet not a word from the media, the Democrats or even the Republican Party.
I am calling on Mendoza to withdraw from the Mayor's race or resign from the Comptroller's office. The people of Illinois deserve political leaders who keep their promises and do their jobs.
---
Monday, November 19, 2018 1:00 PM
Kelly mocks Beto, changes name to Memo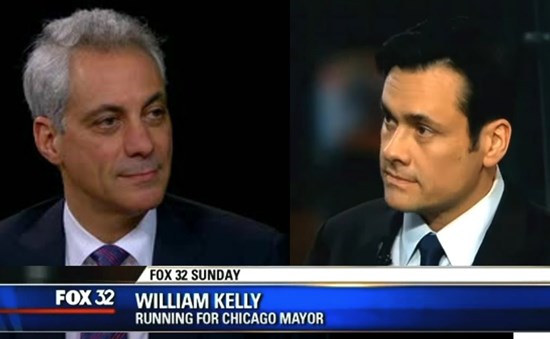 CHICAGO IL, November 23, 2018 -
Republican William
J. Kelly says he is officially changing his name to "Memo," the Spanish short form for Guillermo or William - his
given name. "I've been called 'Memo' since grade school," claims the fourth generation Irish-Swede. "It was all over my notebooks."
Kelly, who is running for Chicago Mayor,
cites Democrat Beto O'Rourke
, another fourth-generation Irishman, as the inspiration for the change.
"This Texas Congressman, Robert Francis O'Rourke. You know what he has that I don't have - other than the DUI and burglary arrest? A nickname!" says Kelly. "So that's what I need."
O'Rourke, despite his Irish heritage and Spanish nickname, represents the heavily Hispanic 16th congressional district. He is being touted as a leading Democrat candidate for President in 2020, despite his recent loss to Sen. Ted Cruz.
###
William J. Kelly is an Emmy award-winning producer and the host

of

"The Citizen Kelly Show" on AM 1590 WCGO.

He is the founder of RevDigital, an award-winning TV and new media production company based in Chicago. Kelly is a frequent contributor to the Daily Caller, Newsmax, and the Washington Times.
---
Wednesday, October 31, 2018 1:23 PM
Kelly: Let the De-Raunerification of Illinois Begin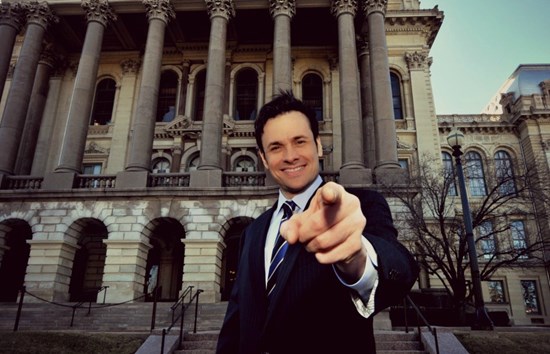 My Fellow Citizens,
Last week, I explained why I cannot support Gov. Bruce Rauner and why I am supporting pro-life conservative Republican Sen. Sam McCann. I am more convinced than ever that we need to rebuild the Illinois Republican Party without the Raunerites who have betrayed our trust.
Last week, Illinois Policy Institute's John Tillman praised Gov. Rauner for his courageous leadership. This week, Dan Proft trashed President Trump and said he wasn't a "conservative." Proft is currently running attack ads linking Trump to Democrat Mike Madigan.
To make matters worse today, Rep. Jeanne Ives endorsed Gov. Rauner for re-election. Last year, Ives apologized to conservatives for supporting Rauner in 2014. She vowed not to support him after he signed bills expanding taxpayer-funded abortion and legislation making Illinois a sanctuary state but has flip-flopped again.
However, as outraged as she says she is, Ives is again supporting Gov. Bruce Rauner, a major donor to Planned Parenthood and the ACLU's abortion rights project.
We need to reject the Rauner Party once and for all. Let's be clear: These "conservatives" sold your vote to Bruce Rauner in 2014 and they are doing it again now. They told Rauner they could deliver him the conservative vote and they did. Rauner gave them millions of dollars in return for YOUR VOTE.
If these people really had any conservative principles, they would have never endorsed or supported a Never Trumper like Rauner in the first place. Illinois would never have been a sanctuary state and expanded taxpayer-funded abortion wouldn't be the law of the land.
Raunerites do not care about you or your family. We need to rebuild the Illinois Republican party – free of Raunerites – and the sooner the better.
On Tuesday, vote for Sen. Sam McCann and let the de-Raunerification of the Illinois Republican Party begin.
- William J. Kelly
---
Wednesday, October 24, 2018 10:26 AM
Kelly: Why I Won't Support Rauner and Will Support McCann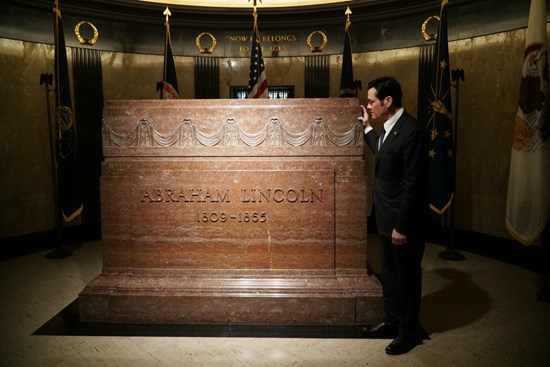 My Fellow Citizens,
I will not and cannot support Governor Bruce Rauner for re-election. I didn't support Bruce Rauner in 2014. Why should I start now? It was clear to me in 2013 that Rauner was buying up the Illinois GOP at bargain basement prices.
It was obvious that Rauner was paying some conservative and pro-life leaders for their endorsement and support. Unfortunately, I could not have been more right about Governor Rauner. It will take the Illinois Republican Party years to recover from what Bruce Rauner and his allies have done.
Because of Bruce Rauner and his friends, Illinois is now a sanctuary state for illegal immigrants and amnesty groups have received millions in grants.
Because of Bruce Rauner and his friends, expanded taxpayer-funded abortion on demand is the law of the land. He has also given Planned Parenthood more than $4 million in taxpayer-funded grants.
With the help of Bruce Rauner and his pals, Illinois passed a 32% permanent income tax hike. He signed the Democrats' $38.5 billion spending plan earlier this year.
Rauner endorsed Chicago Mayor Rahm Emanuel for re-election over my Republican candidacy. For years, he cut deals with Democrat unions in exchange for millions in union pension business.
For the last four years, Bruce Rauner and his allies at Illinois Policy Institute and Liberty Principles PAC have spent millions attacking pro-life conservative candidates and smearing their good names – including Sen. Sam McCann.
Rauner used Dan Proft's PAC to attack McCann with $2.3 million in negative ads and – because McCann is beloved in his district – the effort failed.
That's why I am supporting the only real Republican in the race for Illinois Governor – Sen. Sam McCann, a courageous pro-life conservative.
The Rauner Party must end now.
I swore an oath on President Abraham Lincoln's grave that I would rebuild the Illinois GOP – free of Raunerites. I will make good on that unbreakable oath.
Please support Sen. Sam McCann
for Governor
this November. The future of Illinois and the Illinois Republican Party depends on it.
- William J. Kelly