News
Tuesday, July 25, 2017 11:31 AM
PBS host cuts off Republican William J. Kelly on Illinois' secret sanctuary state bill
Watch PBS host Phil Ponce cut off GOP candidate for Governor William J. Kelly (at the 7:20 mark) when Kelly tries to talk about "The Trust Act," Illinois' secret sanctuary state bill.
The bill passed the Illinois General Assembly on Memorial Day and it could become law in days. Media outlets in Illinois have refused to cover the "Trust Act" legislation and members of immigrant and refugee coalitions have stated publicly that the words "sanctuary state" were purposely kept out of the bill to prevent a public outcry. Illinois politicians, including Gov. Rauner, and Democrat and Republican members of the General Assembly, have also been "mum" on the legislation, which passed the Illinois Senate and the Illinois State House on Memorial Day. The legislation is awaiting Gov. Rauner's signature to become law.
Kelly is challenging anti-Trump Gov. Bruce Rauner of Illinois. For info, visit www.williamjkelly.org.
---
Saturday, July 15, 2017 9:47 PM
William J. Kelly, Republican candidate for Governor, says Bruce Rauner has failed Republicans and all Illinois voters. Worse yet, Kelly says Rauner has divided Illinois. Listen to Kelly's "House Divided" speech and learn the truth about what harm Bruce Rauner has caused to Illinois taxpayers and families.
---
Wednesday, June 28, 2017 5:16 PM
Kelly says passage of Secret Illinois Sanctuary State Bill a Stab in the Back
The Illinois state house quietly passed the Illinois Trust Act, a sanctuary state bill, 62-49 recently. Not that a single Illinois voter knows about it - other than non-citizen "voters" being organized by the Illinois Coalition for Immigrant and Refugee Rights (ICIRR) to lobby for its passage.

Illinois politicians have devised a legislative euphemism, the "Illinois Trust Act," to keep the bill quiet. In fact, ICIRR organizers say they intentionally avoided the word, "sanctuary." Perhaps Springfield pols fear the wrath of downstate voters who supported Donald Trump by 79% margins in blue state Illinois; if voters actually knew what was in the bill, there would be political hell to pay.

William J. Kelly, Republican candidate for Governor, has issued the following statement:

Illinois politicians passed this secret legislation on Memorial Day and it's the ultimate stab in the back to all the soldiers who gave their lives to keep America a sovereign country. Politicians, who want the illegal immigration vote, want to keep the Illinois Trust Act hush-hush. Gov. Rauner, a liberal Republican who is pals with Rahm Emanuel, is afraid to talk about the Trust Act and refuses to discuss it.

Supporters of this bill claim it will make immigrants feel more secure. But who has more of a right to feel secure in their own state? Illegal immigrants or legal citizens?

The Illinois Trust Act isn't intended to help legal citizens feel more secure; it is intended for people who are breaking laws and illegally siphoning welfare and medical benefits from the American citizens who need it most - the poor, the homeless, and the disabled.

This is a sanctuary state bill and Gov. Rauner is afraid of offending illegal immigrants, refugees, and their supporters? Too bad he's not as worried about offending U.S. citizens and Illinois voters - at least the legal ones.
---
Thursday, June 1, 2017 9:45 AM
Kelly: Gov. Rauner has failed Illinois taxpayers again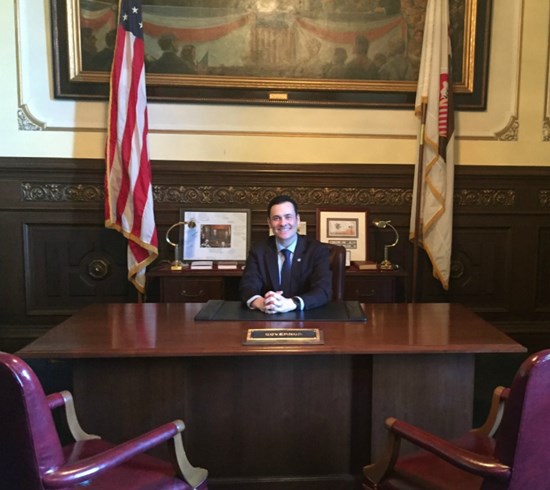 Statement from William J. Kelly: Rauner is costing taxpayers millions of dollars
Gov. Rauner has once again failed Illinois with his failure to pass a budget. He promised taxpayers he would end waste, fraud, and abuse in state government and yet he has never used his line item veto once. He promised Republican voters he would run the state like a business – not out of business.
As a result, Illinois taxpayers will owe hundreds of millions of dollars in interest payments on the state's unpaid bills. Rauner has pledged to sign legislation to expand hate crime classifications, automatic voter registration, which raises voter fraud issues, and the Illinois Trust Act, a secret sanctuary state bill passed on Memorial Day. This is not what Gov. Rauner promised Illinois voters.
If Governor Rauner won't do his job, I will.
---
Tuesday, May 9, 2017 12:00 AM
Statement from William J. Kelly:
"Gov. Rauner refused to answer my questions on his lack of support for Pres. Trump, Illinois' new Sanctuary State legislation and whether he supports it. He also refused to answer any questions about the warehousing scandal with Frank Vala, the man he appointed to lead the Board of Procurement. If Gov. Rauner isn't going to answer my questions as a reporter, I will have to take my questions to a different arena."